Biodiversity & Taxonomy Software Tools in R
Scott Chamberlain ( @sckottie/@ropensci)
UC Berkeley / rOpenSci

rOpenSci Does
| | | |
| --- | --- | --- |
| Community | Software | Review |
Questions addressed using our software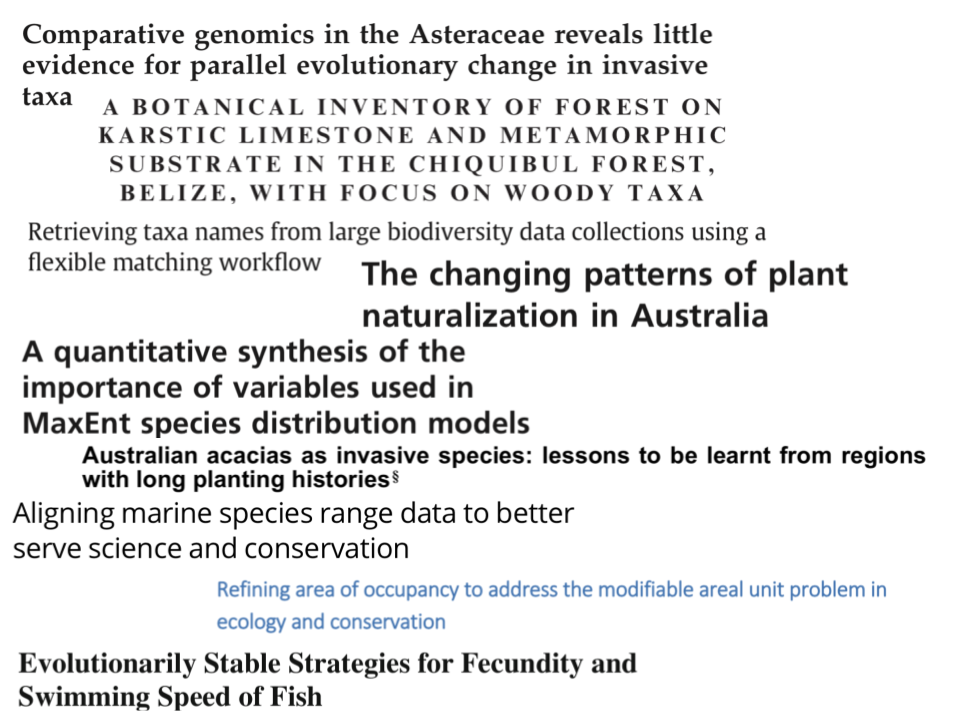 Citations of rOpenSci Biodiv Software
Taxonomy
| package | citations |
| --- | --- |
| taxize | 71 |
| rentrez | 13 |
| ritis | 1 |
| taxa | 1 |
| worrms | 1 |
Occurrences
| package | citations |
| --- | --- |
| rgbif | 51 |
| rfishbase | 24 |
| spocc | 8 |
| rfisheries | 2 |
| rredlist | 2 |
| rvertnet | 2 |
| AntWeb | 1 |
| pangaear | 1 |
| rotl | 8 |
use case 1
Hodgins, K. A., Turner, et al. (2015). Comparative genomics in the Asteraceae reveals little evidence for parallel evolutionary change in invasive taxa. Mol Ecol, 24(9), 2226–2240. 10.1111/mec.13026
in the methods section:
... using the Encyclopedia of Life invasive species comprehensive list, which was accessed programmatically on August 12, 2014 using the taxize package in R .
use case 2
Hodgins, K. A., Turner, et al. (2015). Comparative genomics in the Asteraceae reveals little evidence for parallel evolutionary change in invasive taxa. Mol Ecol, 24(9), 2226–2240. 10.1111/mec.13026
in the methods section:
... we used rOpenSci's worrms package in R to standardize spellings of species names and synonyms ...
Taxonomic data from >20 sources - taxize
always try to move from:
taxonomic name -- to

taxonomic ID -- to

whatever other data
(e.g., synonyms, classifications, etc.)
future work /
hard problems
Summarise/visualize data sets by taxonomy
coming ...
talk to us
what would you like to see?